Our colleges are located across Europe's most musically rich cities. As a BIMM student, you'll immerse yourself in the same city as musical legends and the industry's future game-changers. With inspiration all around, you'll work with like-minded people to create tomorrow's music industry. Here, Bristol graduate Chrissie Huntley takes you on a tour of her musical city. 
Moving to a new city can be daunting, even at the best of times. 2020 definitely took us for a ride, but now it's your turn to take the steering wheel in 2021!
My name is Chrissie. I have just graduated from BIMM Institute Bristol where I studied for three years on the Professional Musicianship course for Vocals. But for today, I am your friendly neighbourhood guide, providing a virtual walk-around tour of some of my favourite places across the city!
A Perfect Day in Bristol
First up, enjoy a delicious coffee and vegan-friendly breakfast at the Bristolian. Once you've filled your tummy, head down Stokes Croft and stop in at That Thing to browse some amazing clothing, accessories and homeware by independent, local designers. They have the BEST festival and stagewear, so be sure to check them out.
Pssst.. I'll let you in on a little secret! Bridewell Beer Garden is Bristol's "secret, city centre beer garden!" Stop here for a cheeky late morning bev (you're a student; it's allowed!). Be sure to book a table online before you go.
So now you've filled your boots on food, drink and clothes, try browsing Rough Trade to find your next favourite band, album, or book. Next, have a wander around Cabot Circus, grab a tasty (and cheap!) bite to eat at Eat a Pitta.
When you're ready, keep walking down towards Harbourside. Climb aboard the 1920s themed boat (that is also a fantastic bar/restaurant) Under the Stars for a drink on the water. If you'd rather stay on dry land, head across to No.1!
Once you're ready to get on the move again, head up Park Street to check out some of the amazing shops up there (music, books, vintage shops; you name it). Et Voila! Part one of your trip is complete. And all within one-hour walking time. Not bad right?
Ready for Part Two?
If you're feeling energised, take a small detour to Brandon Hill and climb up Cabot Tower. There are a fair few steps to climb, but you will not regret it once you see the incredible, panoramic view of the city!
Once your feet have returned to the ground, pass through the Clifton Triangle. While you're here, take note of what bars and clubs might be open that evening that might take your fancy.
All this walking must be working up an appetite. If you head on over to Clifton Village, you'll be pleased to find the best Asian Food in Bristol. Bauhinia is a family-run local business with the most incredible Pad Thai you will find in the city. Eat in, or choose to takeaway. Now we are ready for the pièce de résistance!
Finally, I'd like to end our trip up at the most iconic landmark of Bristol: Clifton Suspension Bridge. Depending on when you go, you might even be lucky enough to catch some hot air balloons flying over the city!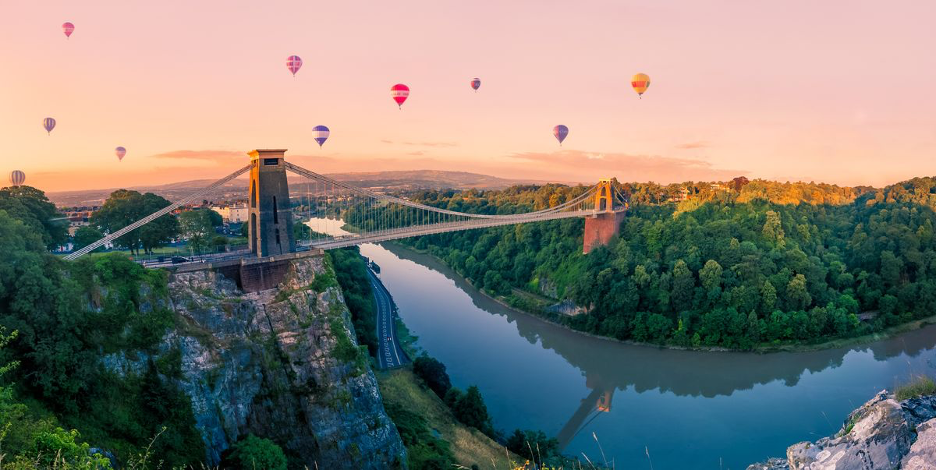 And that's it! The second leg of the trip is also under one hour on foot. If you still want more, check out what club nights are operating safely. The Lanes might be a good place to start!
I hope you've enjoyed the tour of my favourite spots dotted around the city of Bristol. I hope it gives you some confidence that there is still lots going for you to get stuck into as you begin your BIMM journey and move on to exciting new ventures. Happy exploring!
Find out more about BIMM Institute Bristol here. You can also learn more about life in this vibrant West country city here. Excited to join us? Apply now. We can't wait to meet you.