Right in the centre of Europe, Berlin is the place where creatives from around the world work and play to equal degrees. More budget-friendly than other creative capitals like London, Paris or Barcelona, there's a whole load of opportunities and places for you to explore. We've gathered a handful of our faves so you can get your new life in Berlin off to a flying start.
The city of Berlin
Berlin really needs no introductions here: Germany's capital is a city where the past, present and future coexist. It's what makes the place so unique. Walk around any corner, and you'll see old and new standing side-by-side. One of the best examples of this is at East Side Gallery, the world's longest open-air gallery that is also the largest remaining section of the Berlin Wall.
There's so much to discover, both in the city and its surroundings. To build a solid foundation for life here, we encourage you to get to grips with its history. We won't lie, it's not pleasant, but it's necessary for those who truly want to understand how and why Berlin is as it is today. Start off with the national history museum, the Deutsches Historisches Museum, for an overview. To deepen your knowledge of Berlin's 20th century history, visits to The Jewish Museum, Topography of Terror and Tränenpalast (Palace of Tears) are strongly recommended.
What you should also know about Berlin is that it is divided into 12 districts. These districts can be broken down even further into Kiez, which makes the city feel like a series of villages all joined together. Each Kiez has its own identity, so don't be surprised when you hear semi-joking arguments amongst friends about who lives in the best Kiez (filled with bias, of course).
The only thing we can say is to explore them all. Travel from west to east and back again – it's the best way to get a feel for what the city has to offer. Of course, two areas on your hitlist will be Friedrichshain and Alt-Treptow – two of the districts that BIMM Berlin calls home.
The good news is that there is a place for everyone in Berlin – so long as you are ready to embrace every single bit.
Berlin Nightlife
When the sun goes down, a whole new Berlin comes alive. Berlin is, quite simply, nightlife central. There are dozens of events every night of the week, so whatever genre tickles your fancy, you're sure to find it.
Berlin is world-famous for its techno scene. Born out of the tensions of the Cold War, the city's rave culture is something Berliners are proud of – so much so, there's an ongoing campaign to award its many techno clubs UNESCO world heritage status.
Obviously, everyone knows Berghain: its consistently worldclass lineup and strict door policy are the stuff of legend. If you want to explore outside the Berghain bubble but don't want to lose the big-room atmosphere, RSO is an excellent alternative. In the summer, there's no better places than Sisyphos and Æden, both boasting increeeeeedible gardens. For that ever-elusive 'nice vibes bar where you can also dance if you want to', check out Sameheads. With wacky 90s-inspired décor, it's always good for a great time.
For something a little smaller, try Silverfuture, Barkett or Primitiv. Failing that, Spätis (basically, corner shops) will always have your back for alcoholic and non-alcoholic drinks.
Food in Berlin
In terms of culinary delights, Berlin's your oyster… or your currywurst… or your falafel kebab… or… okay, you get the picture.
It's no surprise that a city with a hugely diverse and multicultural population has a food scene to match. Great food is on offer at every price-point, so get stuck in!
You should try:
Wen Cheng: Probably Berlin's best noodles. Think thick Chinese hand-pulled noodles submerged in chili oil. Be prepared to get there early or queue; this is one of Berlin's most popular spots. Luckily for us, one of Wen Cheng's three restaurants is just a 5-minute walk away from our facilities at House of Music. Other honourable noodle mentions go out to Shaniu's House of Noodles and Lon Men's Noodle House.
Rüyam Gemüse Kebab: THE best kebab in Berlin. Many will fiercely defend Mustafa's Gemüse Kebab (the original one is found on Mehringdamm), but nothing beats the freshness (or the vibes) of Rüyam. We promise.
Masha's Bagels and Delicatessen: somehow, bagels are hard to come by in Berlin, meaning that places like Masha's are a real lifeline. And the good news is that Masha's is, in our opinion, Berlin's best place for bagels, and it's just around the corner from our film and acting facilities at Molecule Studios.
Ong Cat: Vietnamese food is something of a Berlin classic and there are hundreds of restaurants across the city. Our favourite can be found in Schöneberg, just opposite where JFK famously claimed, "Ich bin ein Berliner" (I am a Berliner or I am a doughnut, depending on who you ask). Another highly recommended spot is Bu Kon. Out of all the options we've tried so far, Bu Kon is the best value for money, with a bowl of Pho starting from just 6.50 € (and it's delicious too)!
Malafemmena: This pizzeria with two locations in the north and south of Berlin delivers an authentic Neapolitan pizza experience and we absolutely love it. Think puffy crust, rich tomato base and mouthwatering toppings.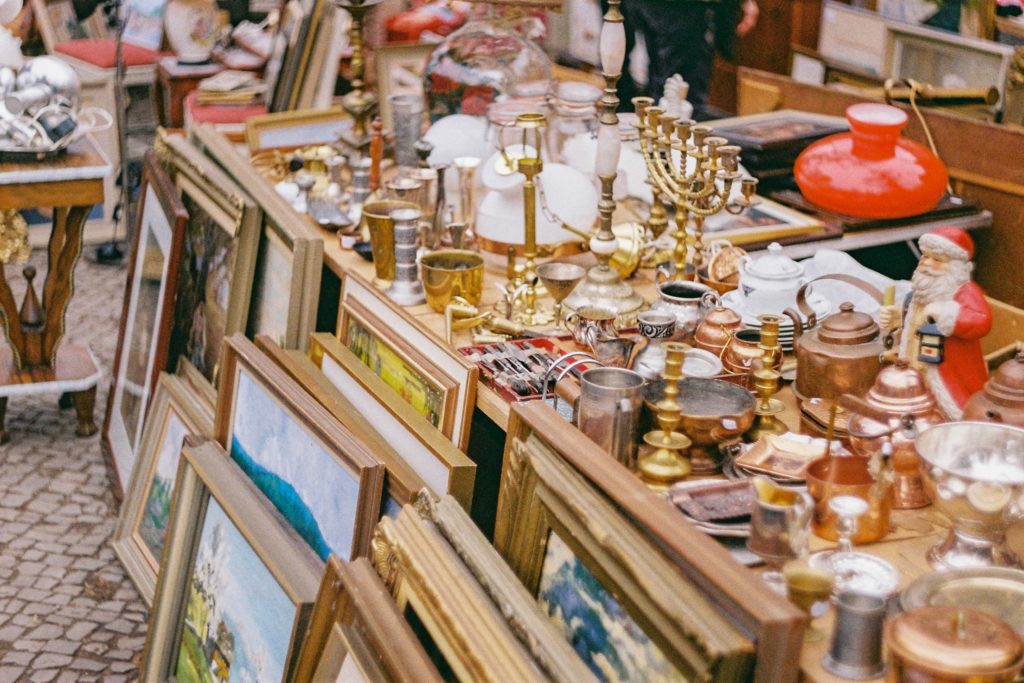 Shopping in Berlin
No matter your style or how much you've got to spend, Berlin has something for every shopper. Kurfürstendamm, more commonly known as Ku'Damm, is the ultimate shopping street, filled with designer brands. Ku'Damm is also home to KaDeWe (AKA Kaufhaus des Westens), which is the largest department store in mainland Europe. If you've got nothing planned for a rainy day, and a healthy budget, a wander round KaDeWe is a terrific way to while away the time.
On the other end of the scale, Berlin is a haven for anyone who's after a bargain. Each weekend, squares around the city are taken over by independent sellers who populate the city's flea markets. While Mauerpark is Berlin's most famous, the Boxhagener Platz, RAW Gelände and Rathaus Schöneberg flea markets are great hotspots.
If you're in to second-hand and thrift shopping, Humana (with dozens of locations throughout Berlin) is your main point of call. Bonus fact: the largest of these, located at Frankfurter Tor, was even used in the hit Netflix series The Queen's Gambit, starring Anya Taylor Joy.
Outdoors
Even though Berlin is a massive capital city, it's also very green. Filled with parks and surrounded by several lakes, there are plenty of opportunities to get out into the great outdoors and away from the hustle and bustle of the city.
One of Berlin's biggest inner-city parks is Tiergarten. Step inside and it feels like you're in the middle of the countryside. If you're spending the day there and on the hunt for a lunch spot, head to Café am Neuen See.
Alternatively, if you want to mix history with nature, head to Tempelhofer Feld, the city's former airport and main site of the Berlin airlift. With its runways still intact, this is a haven for cyclists, rollerbladers and kite surfers (yes, really).
If you're looking to leave the city completely behind, hop along the S1 towards Wannsee for some lakeside action.
For more tips and recommendations, check out our guide to BIMM life in Berlin here.