As part of our Music Made Us campaign, creatives, music professionals, experts and journalists reflect on how music has been there for us through good times and tumultuous periods that inspire change. Throughout generations, music has sparked, supported and commented on movements, memories and moments in time.
Our contributors look at these events' relationship with music – from the UK's 80s acid house and rave scene to the 1992 LA riots and Covid-19 potentially leading to the third summer of love. They also look at music's ability to heal our mental health and become a part of our personal stories.
Here, Bethan McConnell – digital editor, live photographer and Founder of Safe and Sound – explores her personal experience in the industry, usually as the only female live photographer and young person in her working environment. 
The Libertines by Bethan McConnell
I have worked in various areas of the music industry since 2016. Through photographing shows, working as security, selling tickets in a box office and serving drinks at shows, I've found that I'm not treated as someone who is 100% qualified to do my job. Why, as a young woman working in live music, am I treated so differently from the older men who do the same jobs?
If you ask anyone who works in live photography why they started, the most common answer is: "I wanted to go to shows for free." In 2016, I found that every single penny I saved was going towards concert tickets, and as shows were upgraded to larger venues, I found I couldn't afford the tickets. However, I would regularly see different people working at shows, either filming or photographing the bands that were on stage. It didn't seem very clear how they were there or who they were working for, but I recognised that it must be quite straight-forward if they could do it. After a few hours of Google searching, I realised it wasn't that easy.
Many live photographers had blogs or websites where they sold their live shots but offered little in the way of advice, FAQs or simple tips for new photographers. I quickly recognised that the bands I liked as a teenager seemed to have the same tour photographer, who had gained a large following online. Enter Adam Elmakias: the first professional photographer I discovered who was supportive of new talent and wrote a blog about photographing shows.
Through his various internship opportunities, I realised that there were professionals who wanted new blood in this industry and were actively trying to make it happen. Nevertheless, there didn't seem to be as many female live photographers who were working at these shows.
"Most advice and wisdom being shared was from men."
Although it was difficult to get started, websites like How to be a Rockstar Photographer provided insights into how people took up the hobby of concert photography and tips on how to work at shows. But, I didn't want to photograph 'rockstars'; I just wanted to photograph the shows of bands I liked. As I trawled through Google, most advice and wisdom being shared was from men. Because of the niche nature of concert photography, there is a lack of research into the gender diversity of the sector, and why there appears to be a lack of women at the forefront.
In 2019, Women Photograph found that eight of the world's leading newspapers printed far fewer lead photographs by women than by men. The most shocking results were in Le Monde, where out of 72 photographs published, 4.2% were taken by female photographers, equating to three images. As with the so-called genre of 'female-fronted', it appears that women (in my experience) are treated as a commodity in the creative industries.
I still feel that in 2021. In the past few years, I've been challenged more by security guards about my work than other male photographers, checking my passes as though I didn't deserve to be there. I know that the forging of press passes has become an increasingly infuriating issue for venue staff, but to be suspected of it, as though I didn't earn my way in legitimately, is both infuriating and sexist.
"It's hard to know who I will share the pit with in a year's time."
I know I am a minority, but luckily numbers appear to be growing. There seem to be more opportunities for young women, but with a year off from shooting shows because of the pandemic, it's hard to know who I will share the pit with in a year's time.
Anteros by Bethan McConnell
The Groupie Assumption for a Female Live Photographer
In an interview I did with Black Honey, vocalist Izzy Baxter Phillips discussed how she had been kicked out of a show because security believed her to be a groupie. In actual fact, she was at the show in a professional setting, to perform with her band:
"People have kicked me out of shows before because they thought I was a groupie. I would be the most unsubtle, eccentrically dressed, extreme groupie ever."
– Izzy Baxter Phillips, Black Honey
As a bartender, members of the public have asked me on occasion if my work is too difficult, and whether one of the lads should help me with it. As a security steward, my authority was regularly diminished, often by other members of our team. Other members of our security team would laugh, and suggest that if someone wanted to get past me, it would be easy "because I'm a girl." I've been kissed, grabbed and groped at shows that I have worked at by members of the public and by other working professionals. I know for a fact that my male counterparts do not deal with this sort of behaviour so regularly.
At arena shows, photographers are generally escorted to the pit to ensure that you are only able to shoot a set number of songs, and aren't able to take photos from the crowd. It is an understandable rule that dates back to the 1980s, particularly at Bruce Springsteen shows. The rule was enforced so that press weren't hogging the front of the stage for full shows, which bothered both the bands and members of the audience. This meant that there were a number of occasions where I was forced to spend time with a number of photographers before shows.
On occasion, I was asked by members of security or other photographers what I was doing there, what camera was I shooting with, or how I managed to get a pass. These questions weren't being asked of any of the older, male photographers, so why was I singled out?
Noel Gallagher by Bethan McConnell
When working at shows, some photographers were brilliant and accommodating, clearly recognising that I was a new starter. On the other hand, I have had several photographers question why I was working in the pit, who I was working for, and whether I was the girlfriend of someone in the band. These sorts of questions have come from the touring crew, local press and members of the audience, but not everyone who was asking was male.
I assumed that because of the apparent lack of women in this industry, the female photographers would stick together. Although, that was not always the case.
"I assumed that the women who work at shows had some sort of unspoken solidarity with each other because we were often the minority."
A few years ago, I had a female live photographer suggest to me that I was a groupie because I recognised someone in the crowd of a small show who was in a local band. For another female member of the press to suggest to me that I was a groupie was absurd. I assumed that the women who work at shows had some sort of unspoken solidarity with each other because we were often in the minority.
It made me realise that we are all competing, in a sense, to take the best photographs and to be the person who is hired.
A Moment of Motivation
I have found that being a young woman in this profession has occasionally benefitted me. In December 2016, I photographed the Newcastle show of Status Quo's tour. Supporting the band was REO Speedwagon, who I wasn't as familiar with. Arenas generally feature a much wider pit section, so you have to walk in order to photograph every member of a band. When shooting the support, they were accommodating of me and my camera, smiling and playing up to it. When I moved to another band member and looked back, the same musicians were ignoring the other men shooting the show, as though they weren't even there.
"[It] motivated me to work harder, despite everyone around me being older and predominantly male."
With only three other people shooting that show, it was clear to see that they recognised someone who was nervous and unsure of themselves and tried to help me get the best photos I could. It is something that the band probably doesn't remember, but it stands out to me as an aspect of my career that motivated me to work harder, despite everyone around me being older and predominantly male.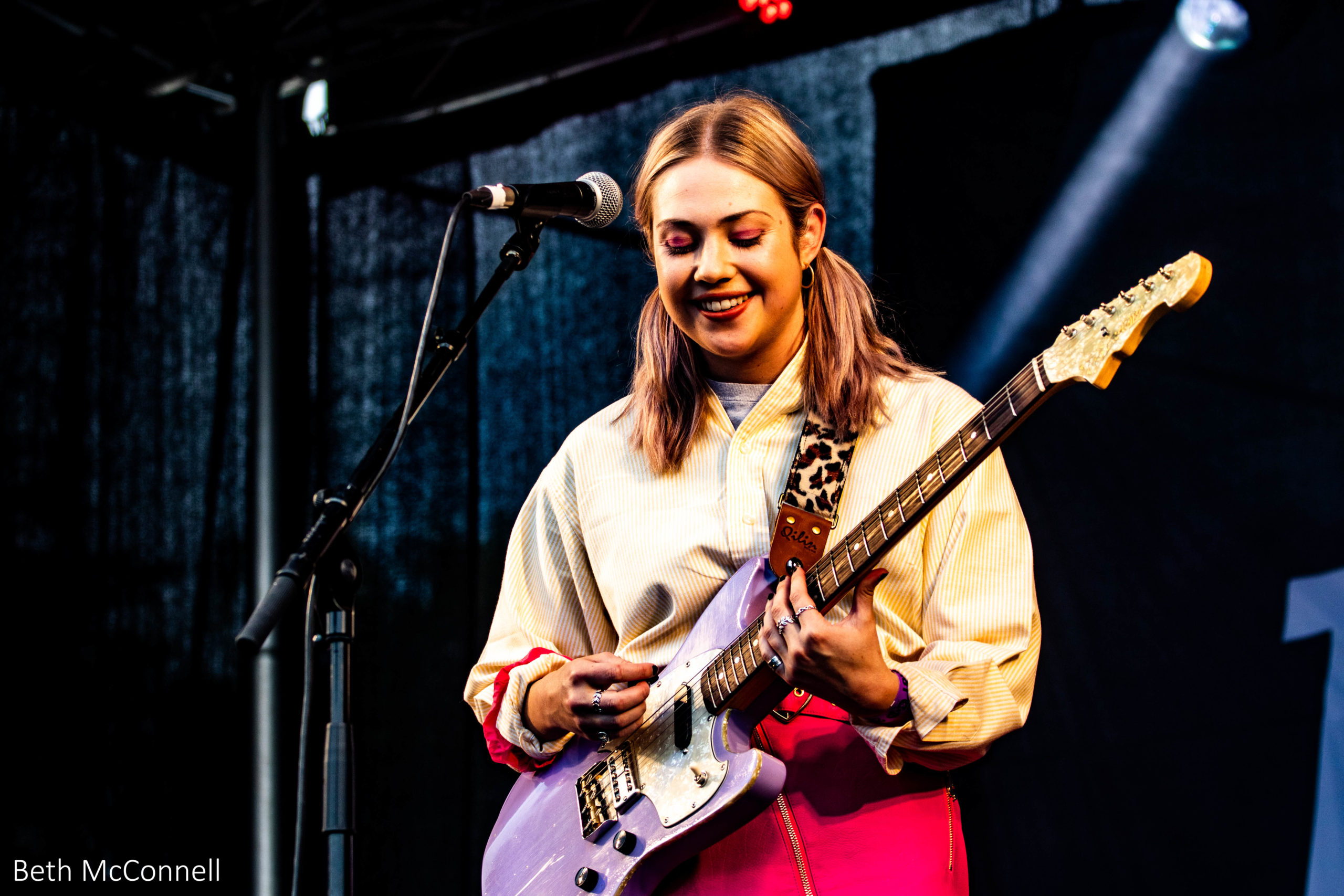 Lauran Hibberd by Bethan McConnell
If I was to give any advice to photographers now, particularly ones in London, I would suggest that being friendly and networking isn't actually a bad thing. Obviously, the number of creatives who live in the capital is huge, so you're not going to be seeing the same faces at every show, but make those connections, get your business cards out and support other photographers you meet.
I've worked at shows with 20+ photographers, and it appears that no-one utters a word to each other – from standing in the cold at the stage door, to waiting for the bands side-stage. There's so much time to chat and actually meet like-minded people. Some of the most valuable advice and experience I have been given is from times like these; just small gaps between bands changing over, where you can have a laugh and complain about lighting, or how you've dropped your earplug somewhere. To have that solidarity as a creative group is something I miss about working in Newcastle, and I hope to see more of it when we can finally go back to shows and enjoy concerts again.
Be the Change You Want to See
To review or photograph live shows, you have to reach out to a band's publicity team, who will likely respond and ask who you are working for. If you're being granted a free £50 ticket for a show, the PR team will want to know where your work will be published, and who is publishing it.
In 2016, I was a secondary school student who gained some great opportunities from being assertive and telling artist PR teams: "Yes, I have only just bought a camera, but could I have a try?" I was given some amazing experience from artist management who just let me have a go, and it shaped me as a creative to work in all of those different scenarios. Now, I've been able to live in the capital for nearly two years, studying Music Journalism in Fulham: something that I wouldn't have chosen to do if those PR teams hadn't pushed me to become the best photographer I could be.
When I first started out, I worked for various print and online publications in order to review shows and take photographs but found that we didn't have much choice on the coverage. Over time, working for other people became dreary, with many publications lacking creative freedom. I recognised that I would have to work for a publication to cover live shows, but wondered if it was possible to start one myself.
"I was able to meet all of these different writers and photographers who did the same jobs as me and bring all of these women together."
In the summer of 2017, I launched Safe and Sound, a music publication where the creator base was solely people who identified as female. I wanted a way to work for myself, whilst still having the support of a website to be able to shoot shows.
Sam Fender by Bethan McConnell
Over time, we built up a strong team of photographers around the UK and expanded worldwide. I realised that this is why there are so many music magazines and websites out there: people want to have the freedom to work for themselves and to do better than the previous editors they worked for. I was able to meet all of these different writers and photographers who did the same jobs as me and bring all of these women together.
Safe and Sound has given a platform to so many writers and photographers, similarly to the likes of Girls Against, Safe Gigs For Women and Loud Women. All of these organisations focus on the issues faced by women in live events:
Girls Against looks at fighting misogyny and sexual assault in live shows
Safe Gigs For Women campaign for safer spaces at live shows
Loud Women turned five this year, and host a festival full of female and non-binary artists
If I could go back and speak to my 16-year-old self when I was deciding to take up photography, I think the one piece of advice that would be useful is that there are definitely positive things on the horizon. Like living through the pandemic, starting work as a live photographer is difficult; you don't know where the end is, and you can't quite tell what next week will look like.
However, during my career, I've worked with some of my favourite bands and worked at some amazing festivals and events around the country. Personally, I've been able to grow a lot as a person, and despite the negative experiences, I've certainly learned a lot. And some of my best friends have been from working at shows, in all of my different fields.
Yonaka by Bethan McConnell
Overall, I've learned that yes, there are female live photographers out there. And there is an abundance of female talent. Just look at the likes of Emma Swann, Pooneh Ghana, India Fleming, Elly Bailey, Lauren Stewart, Anna Smith, and Sarah Louise Bennett.
And so many amazing organisations are popping up, making sure that marginalised and underrepresented genders are seen and heard. These sorts of live events organisations are helping to bridge the gender gaps behind the scenes too, with more young women realising that it's not just a male industry. Over the years, I believe we will start to see more female talent in the limelight, with artists like Black Honey ensuring that at least 50% of their touring staff are women.
Creative women are definitely here: you've just got to be willing to look.
Our Music Made Us campaign is told through the students, graduates, journalists, experts and passionate people who have been shaped by this creative outlet. Discover their stories here.