Our colleges are located across Europe's most musically rich cities. As a BIMM student, you'll immerse yourself in the same city as musical legends and the industry's future game-changers. With inspiration all around, you'll work with like-minded people to create tomorrow's music industry. Here, BIMM Institute Brighton Songwriting student Frankie Stanley takes you on a tour of her musical city. 
Coming to a new city is super exciting, but it can also be nerve-wracking. There are so many questions, such as:
Where are the good music venues?
Where can I grab lunch?
Where can I have a good night out?
Ask no further, I am here to tell you where you can go to have a great Brighton experience!
I have just completed my third year of Songwriting at BIMM Institute and have had such an amazing experience, much of which is to do with the city I have chosen to study in. I have fallen in love with Brighton and have decided to stay here post-BIMM. There are so many cool places and people to meet.
As we are still coming out of lockdown measures, some of these places and events aren't currently open or taking place. But so many of them will reopen soon and the Brighton buzz is coming back!
Things to See in Brighton
Brighton is such a beautiful city with lots to do. I recommend taking advantage of the beach. I discovered swimming in the sea very late in my third year and I couldn't believe I hadn't done it sooner. Go swimming!
I love days out. If you're feeling like you need some fresh air, pack some food and water, rent a Brighton bike (go to the app Social Bicycles). Cycle all the way to Saltdean along the seafront and put your bikes on hold for an hour to sit on the beautiful Saltdean beach.
Brighton has loads of great events. I always enjoy Brighton Fringe, Spiegel Tent and of course The Great Escape Festival (don't forget to volunteer). These events were greatly missed this year, but they will be worth the wait!
Places to Eat in Brighton
Brighton is amazing for food. It caters for everyone – from vegans to meat-lovers, Brighton's got it
all. My favourite food hotspots are the North Laine and South Lanes. These are the areas where you will find the most restaurants, most of which are reasonably priced, such as:
The newly opened The Vurger Co., a vegan burger place (I recommend the Biscoff Milkshake)
For a quick but hearty meal, try Tortilla for a burrito
Pizza? Head to Purezza or Franco Manca
Balcony Cafe/Kenny's Rock and Soul Cafe for a very filling breakfast. And The Trading Post if you're just feeling posh!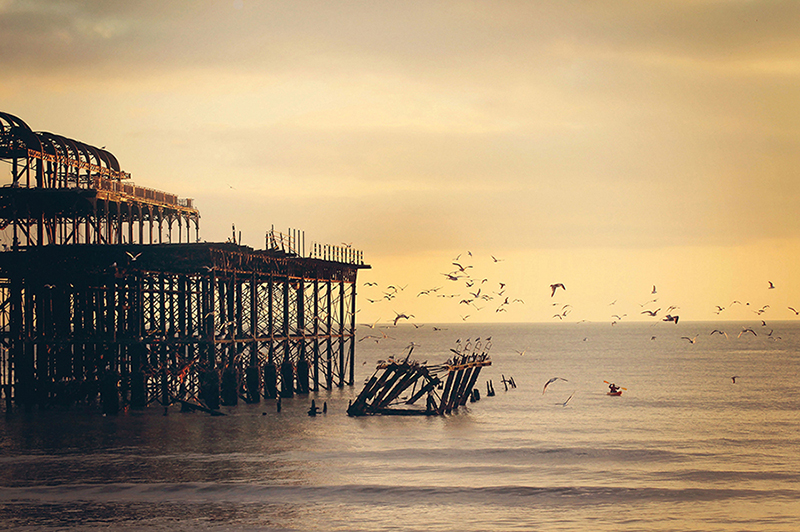 A Perfect Night Out
If you fancy some live music (once gigs start again of course), head down to The Hope and Ruin, who do a mix of free gigs downstairs and ticketed events. You will undoubtedly see a lot of your mates gig there throughout your time at BIMM, and hopefully, get to play there yourself.
More gigging venues include:
Green Door Store
The Prince Albert
The Western
The Brunswick
If you looking for an open mic venue, you will want to head down to The Brunswick to test out your new tunes and get in some good performance practice.
Once the gig is over, you can end your night there or head to the next spot. There are countless great going out places, whether you want a little boogie or a chilled-out pub setting.
Top picks for dancing:
East Street Tap
Green Door Store 80s Night (Saturdays)
Where to Shop
If you're looking for vintage, you've picked the right city. Head to the North Laine to find:
Waiste Vintage
Dirty Harry
Beyond Retro
To Be Worn Again
If you're feeling something a bit more high street or commercial, there's Churchill Square Shopping Centre with everything from Topshop to Urban Outfitters.
Have a walk around, get lost and find your own favourite places. Brighton is the perfect place to do so.
Find out more about BIMM Institute Brighton here. You can also learn more about life in this quirky, vibrant city here. Excited to join us? Apply now. We can't wait to meet you.