Or, Writing my Essay in a Candlelit Bath isn't Madness, it's Self-Care.
One way we're here for you during your time with us is by providing supportive Mentors through the BIMM Mentoring Scheme who know what it's like to be at BIMM. Like all our Mentors, Abi Scaife is here to offer a friendly face and help you as you transition into BIMM life. Here, she tells us her top tips for balancing university work and looking after yourself. 
Let's face it, university can be as stressful as hell. You're living away from home probably for the first time, managing your own finances; you only learned to boil an egg, like, yesterday, and on top of that you have to study full time. There just aren't enough hours in the day to get it all done and take care of yourself, especially if you're working too.
There is such an emphasis on self-care these days, which isn't a bad thing. Everyone should take time for themselves in whatever form works best for their needs – whether that's splurging on a meal for two (for one), sleeping in 'til 1pm, or doing a Poundland sheet mask (they're actually not bad!). But the self-care that's talked about on Instagram is usually pretty unrealistic for your average student. It's either too expensive (who can afford name brands?) or takes up way too much time – time that could be spent finishing assignments, putting in more hours at work, or hitting the library to do more research.
"People who practice self-care have better cognitive functions with improved focus and concentration."
But one thing we can be sure of is that taking time for yourself IS important. People who practice self-care have better cognitive functions with improved focus and concentration. By taking time out for themselves, they are actually more productive with the time that they have left.
So, when you're juggling a million and one things and dropping one might just tip you over the edge of sanity, what do you do? How do you tick off every task on your never-ending to-do list and find time for yourself? And if you take time for yourself, how do you do it without feeling guilty for not working?
Step 1: Schedule
The first step is to work on a schedule. This might feel like it's sucking up more of your time at first, but the payoff is worth it. It doesn't have to be overly complicated; just dividing the day into mornings and afternoons is enough. The advantage of this is that you can schedule your work and your time off around what works best for your brain.
Are you a night owl? Have a lie-in and a full English breakfast, schedule your work to be done in the afternoon and the evening. If you work best in the mornings, get up early to write your assignments and in the evening have a bubble bath and an early night.
Step 2: Prioritise Importance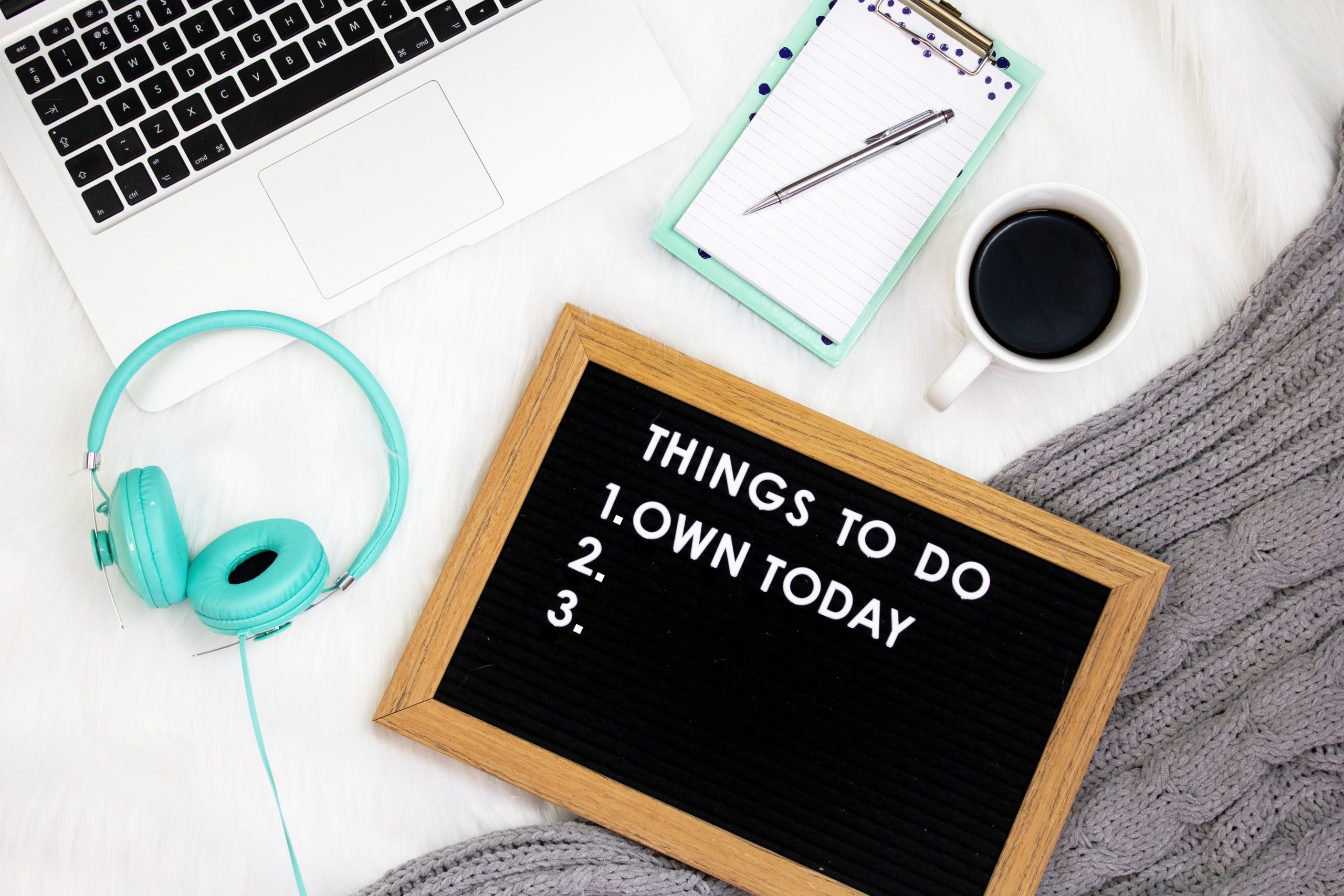 Once you've set up your schedule, it becomes much easier to focus on the things that need doing immediately; those tasks that you can't put off until the last minute. Things like replying to emails, submitting assignments or sending in a job application; you can bump anything that is time sensitive to the top of your list. Then, do the things that are important but aren't on a short deadline, so that you have time to work on them before they need to be completed; this can include anything from writing an essay plan to tidying your workspace.
"The more productive you are in an organised and healthy way, the less time you spend staring at a blinking cursor on a blank page."
If you get your schedule sorted into levels of importance like this, everything else falls into place. You suddenly realise how much time you used to spend slightly frazzled trying to figure out what you're supposed to do next, and your productivity levels go up. The more productive you are in an organised and healthy way, the less time you spend staring at a blinking cursor on a blank page, or in bed doom-scrolling because your brain is so exhausted it can't fathom working anymore.
Step 3: Use an Organisational Tool
Using an organisational tool as well as your schedule can help, too. Bullet Journaling is great for keeping a comprehensive list of everything that needs doing and when it needs doing by, without getting overwhelmed. Alternatives like planners or apps like Evernote, Trello or myHomework Student Planner work on a similar premise. Try out a few different methods, but once you find one you like, try and stick to it – having all the information you need in one, easily accessible place will save you a lot of time and stress in the future.
Step 4: Focus on Self-Care
But sometimes, with all the will in the world, you run out of time. It doesn't matter how many bullet journal spreads you devoted to your project, or how early you started writing your essay; life happens. When the going gets tough, that's when self-care really becomes important. So, before life gets in the way and makes being productive an uphill battle with anvils tied to your ankles, figure out some ways you can take care of yourself while doing work.
" The better you're feeling, the more productive you're going to be."
Light some candles, put on your favourite album, run a bath with some cheap bubbles – then stick your laptop on the toilet seat and get typing. It might not be as relaxing as your usual soak in the tub, but the better you're feeling, the more productive you're going to be. If you're on a tight deadline and can't afford to stop working entirely, but your head is about to explode from the pressure, this is the way to go.
University is going to take up a lot of your time, and if you're working on top of that, it's going to be even worse. That doesn't mean you should neglect yourself– the worst thing you can possibly do is to devote all your time to your studies, graduate with a good grade and realise it completely burned you out and you're unable to work. So take care of yourself. Eat good food, sleep well and schedule yourself breaks. Because university is important, but you are even more so.
BIMM Mentors are just one of our many support systems in place to help you get the most out of your time at BIMM, no matter who you are. Find out more about Student Support or our new Access and Participation initiatives.
Photo credit to https://writix.co.uk