For this International Women's Day we want to highlight five musicians and music professionals at BIMM Institute Hamburg and introduce you to their work to celebrate FLINTA* in music and the industry. You definitely want to remember these names!
Maya Endo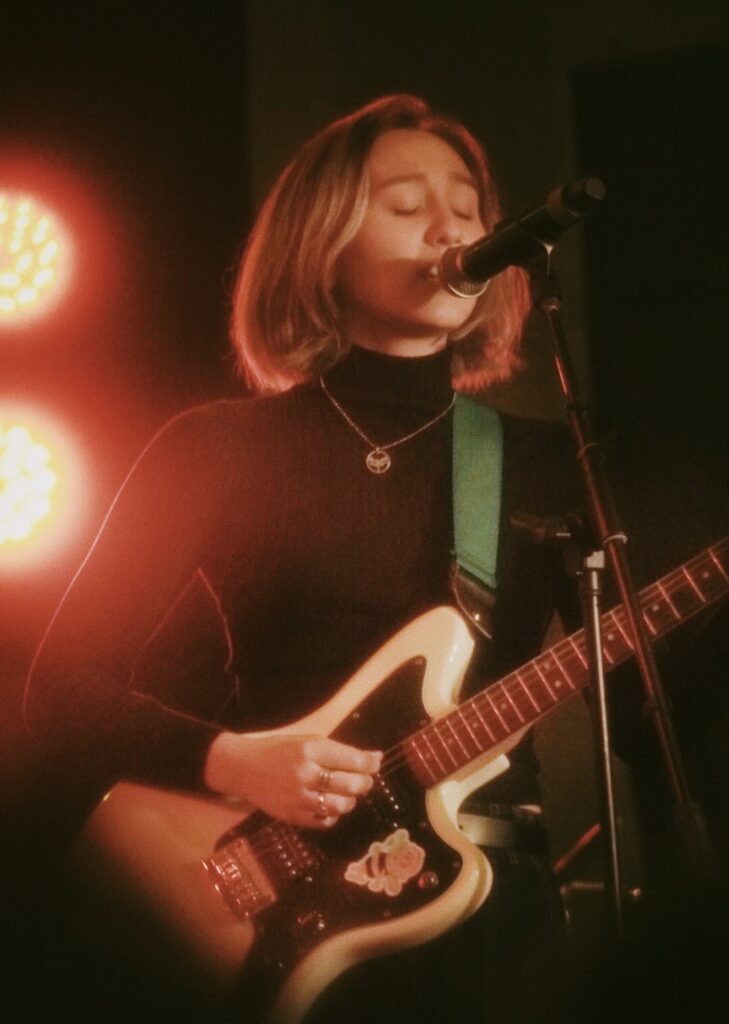 Moving from Peru to Germany a few months ago to study Vocals and Songwriting, Maya Endo has been inspired by the process of moving and adapting to a completely different reality to innovate her songwriting. After the success of her first EP 'MayaMaya' and multiple concerts in her hometown, the singer-songwriter is fully motivated to continue and elevate her career to the next level, with new music to be released soon.
What are you currently working on?
Currently, I'm working on creating new songs that I plan to release this year. My latest single "2033" marks a new phase in my creative process, which I would describe as more adventurous and even risky. I'm exploring a wide range of sounds from various genres, including hip hop, indie-folk, alternative rock, bedroom pop, R&B, and more. My boyfriend Oliver Berg, who is studying Music Production at BIMM Institute Hamburg, is also heavily involved in this process.
What are your plans for your future career?
As for my future career plans, I believe music will always be my primary focus. I've been passionate about it my entire life, and I want to continue writing, publishing, and performing my music. I would love to tour and collaborate with other musicians as well. However, I'm also interested in exploring different ways to express myself as an artist. This involves exploring various music genres but also different artistic disciplines, such as photography, film, graphic design, etc. I want to remain open-minded, learn from others, and participate in various projects.
How does BIMM help you with your career in music?
As someone who had already started a solo project before starting to study for a university degree, I wanted to find a place where I could continue doing what I loved while also learning from talented teachers and being part of a passionate community. BIMM Institute has provided me with opportunities to collaborate with others, receive guidance from experienced professionals, and gain access to resources and facilities that help me improve my craft.
Amber & the Moon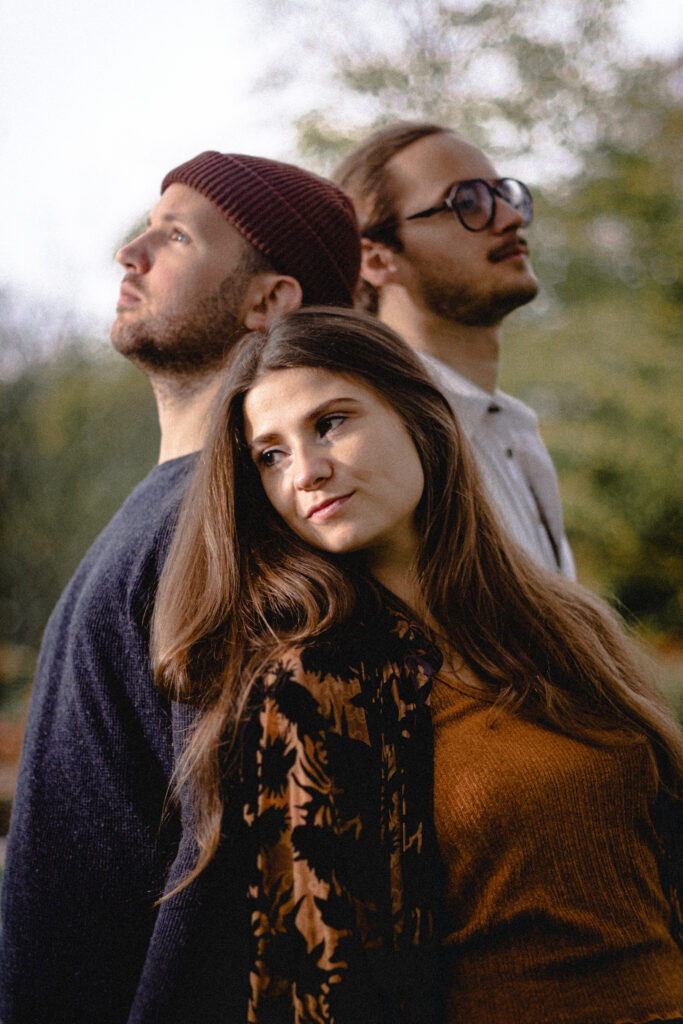 Amber & the Moon writes songs of somber beauty. Fragile and intimate textured acoustic arrangements create a mysterious and haunting atmosphere. While her lyrics hint at melancholy and vulnerability, any sentiment of wistful poignancy is alleviated by singer Ronja's delicate and emotive voice. In this way, Amber & the Moon's moody indie-folk music recalls musical elements and colors of artists such as Daughter, Nick Drake and Laura Marling. Amber & the Moon began as the solo project of singer/ guitarist Ronja until she met guitarist/bassist/singer Jonathan, who joined the band along with her drummer to complete the lineup.
What are you currently working on?
I just released my debut album 'Things We've Got in Common' and I just returned from my very first tour through Germany, supporting the great band Rhonda for almost three weeks. After these very exciting and intense weeks, I'm really looking forward to writing and recording new material with my band. And of course we will continue to play concerts in the coming months.
What are your plans for your future career?
As simple as it may sound, I want to keep doing what I'm doing 🙂 I perceive it as a great gift to have found the right people for my artist project Amber & the Moon – so I would love to discover new facets of the process. Writing music, playing concerts and always learning new things while collaborating and making music with other creative and like-minded people.
How did BIMM help you with your career in music?
BIMM Institute was definitely a great companion during this process. For me, BIMM Institute Hamburg has always been about the people I met there. Aside from wonderful friendships, I was lucky enough to meet my friend and bandmate Jonathan at BIMM Institute Hamburg, as well as our producer Ben Schadow. BIMM Institute is a great place to start out in the music industry, as it gives you the tools you need for all the different aspects of being an artist (ranging from insights into the music business to music production etc.)
Lleen
Colleen is a songwriter, producer, mixing and mastering engineer. She has mixed and mastered the soundtrack of the ARD Series "REEPERBAHNSPEZIALEINHEIT FD65", which was shown at Filmfest Hamburg 2022. As an artist, Colleen's raw and honest lyrics surrounding femininity have garnered her performances at the International Women's Day in Hamburg and has named her an Artist to Watch by Music By Humans and Music Spots. Born in Zurich and raised in Germany to an American dramatic soprano and a barbershop quartet tenor, she was exposed to a broad spectrum of music and live performances growing up. She is a graduate of the prestigious Eventim Popkurs and holds a BA in Songwriting from BIMM Institute Hamburg.
What are you currently working on?
I am currently part of Female Producer Collective, a sponsorship program to support and promote female producers. I'm looking forward to the songwriting camp with Sony at the end of March, where I get to produce one of their artists. I'm also working on my first EP with my band 'Livingstone', alternative riff-based rock with cathartic, self-reflective lyrics. Furthermore, I will be releasing an acoustic album with my duo Colleen Marie & Jona Martin. I'm also focusing on vocal recording and production for other female artists.
What are your plans for your future career?
I want to produce my own music for my artist and producer project 'Lleen' , which is why I originally got into producing. However, I also really love collaborating on songwriting and production with other artists. In 5 years, I want to have my own studio and offer services ranging from songwriting, production to mixing and mastering. I also dream of playing festivals with my rock band Livingstone.
How did BIMM help you with your career in music?
At my first Open Day at BIMM Institute, Charlie McClean was the guest speaker. I was so impressed to meet a female producer and the founder of the all-female Songwriting camp sheWrites . Now, through the skills I learned at BIMM Institute, I was accepted into the Female Producer Collective and have the chance to learn from her as one of the coaches and mentors.
Favih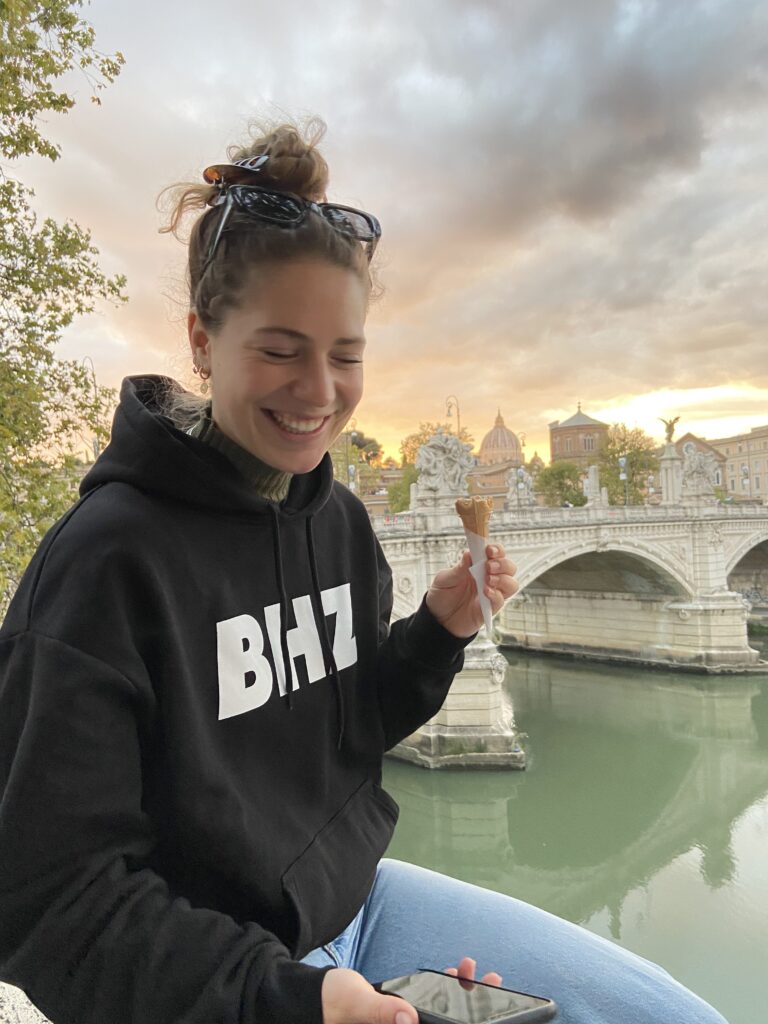 Favih is a producer and singer based in Hamburg, Germany. Influenced by the German and American Hip Hop scene she started producing her own beats in her bedroom studio. As a newfound passion she started to DJ at local parties and could already play in different venues in Hamburg. She combines hip-hop and classics from any era and mixes them with electro and techno sounds in her genre-bending sets. As a newcomer she's still finding her sound and is therefore experimental in her productions.
What are you currently working on? (your work experience at ROBA for example and your musical projects etc.)
Right now, I'm working on my DJ skills by practice new techniques as well as to upload new sets on my Soundcloud profile to promote myself to play more DJ gigs in the future. On the production side I'm working on my first EP as an artist and producer that will be influenced by German underground hip-hop and rap. To finance my musical projects and my studies I work at ROBA Production Music as a working student. I am responsible for providing music for various stations such as Pro7, so that they can use the music of ROBA's artists and labels. For example, by providing the relevant meta data of the songs like the GEMA number, the artist gets paid.
What are your plans for your future career?
Even though it is super sad that BIMM Hamburg will close its doors in summer, I'm now looking forward moving to Berlin and to finish my degree in this vibrant city. The plan is to network a lot in that new environment and bring my DJ career further forward, to play more gigs and to establish myself in the techno scene. In addition, I will continue to produce my music and will release my E.P. and therefore I look forward to future collaborations with fellow students, new friends and artists.
How does BIMM help you with your career in music?
Totally hard to answer that because there are so many things that helped me in my career. Whether it's the regular classes where we learn a lot, the tutorials or the extra and masterclasses that you can sign up for. But in my opinion the most important thing for me is the environment and the mindset you get at BIMM. Everyone loves music so much and wants to get a foothold in this tough business and have actively chosen to go this "hard way". This environment shapes you and has helped me a lot to realize my goals, which also seemed very far away, and to focus 100% on my career and work towards my goals.
Insa
What are you currently working on?
I am currently working on my debut EP with a few singles to be previously released over the course of this year. A lot of things have to be done in order to realise this project. Writing, arranging and recording songs, as well as writing concepts for music videos, live sessions and other promotional material are only a few of those. I love to be finally diving into all of these fields and coming closer to finslly release my music.
What are your plans for your future career?
I want to be a full-time touring and recording artist. Writing and recording my own songs as well as getting to perform them in front of an audience has been my goal for the last decade and finally being so close to releasing my own music that I am so proud of means a lot. I definitely want to perform even more than I am already. Being on stage and sharing my music with the audience is my favourite part of being a musician.
How does BIMM help you with your career?
During my time at BIMM Institute I definitely improved my vocal technique and also my performance skills.
But the most important way BIMM has helped me is connect me with the right people. I met a lot of people that are now part of my creative team, or help me with certain projects.
As an independent artist, all the things that need to be taken care of can be quite overwhelming, but especially the last few masterclasses and 1 on 1 sessions have been extremely helpful.
We are also super excited that our students will be hosting a special concert for International Women's Day showcasing the amazing artists and musicians at BIMM Institute Hamburg! Happening on the 8th of March at Jolly Jumper at 7pm – we hope to see you there!
---
* When talking about women in this story, we are being inclusive of all people identifying with the term FLINTA (German abbreviation for Frauen, Lesben, Intergeschlechtliche, nichtbinäre, trans und agender Personen – meaning female, lesbian, inter*, nonbinary, trans* and agender people). The term is used to highlight and name gender identities that exist beyond the binary gender order of women and men. They also experience discrimination in music industries which are too often overlooked (source: https://musicbwomen.de/en/about-eng/).