Berlin: a city renowned around the world for its thriving arts scene. For actors, this is a place teeming with inspiration, opportunity and support. But what makes Berlin so exciting for actors? Here are just 5 reasons why we think that Berlin is the most exciting place to start your acting career.
---
1. Berlin is full of theatre companies and venues
Berlin's stage acting scene is powerful and diverse. Alongside the world-renowned Berliner Ensemble, the city is home to countless small theatres and groups for actors of all skill levels and interests. Whether it be classical, contemporary or experimental, you're sure to find the stage for you.
2. Berlin's film and TV industry is booming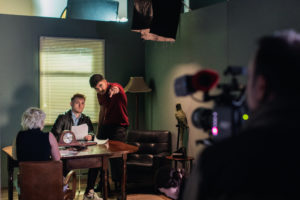 For actors looking to get into film, Berlin is rife with opportunity. Home to a number of major film studios, production companies, and a thriving indie film scene, there are tonnes of opportunities for actors to work on projects, both big and small. Thanks to its strong infrastructure and generous funding opportunities, the city draws film productions from all over the world. This makes Berlin a great place for actors to make connections and build their careers on a global scale.
3. Berlin's creative community is vibrant, diverse and highly collaborative
Alongside the vast stage and screen opportunities that actors can find in the city, Berlin is home to a vibrant community of artists, performers and industry professionals from every creative sector. The community here is truly unique, and offers a supportive and inspiring environment for actors to develop their craft. What's more, actors can enjoy the countless opportunities to network and collaborate with other artists from across the creative disciplines. This is particularly great for anyone just starting out, as they can build their skills and gain exposure.
4. Berlin offers actors opportunities to do truly meaningful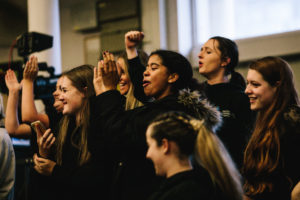 Berlin has a rich history of political and social activism – and the city's cultural scene doesn't shy away from it. Many theatres and film productions in Berlin tackle important social and political issues, whether inspired by past or present events. Actors here aren't short of opportunities to be part of meaningful and impactful work. If you want to use your craft to make a real difference, Berlin's calling you!
5. Berlin is affordable
Compared to other major cities across Europe and the rest of the world, Berlin is incredibly affordable. For those starting out in their acting career, that makes the city an accessible and attractive study destination. With its low costs of living, acting students can take advantage of Berlin's vibrant and exciting scene without having to break the bank.
Through its thriving scene, supportive community and rich cultural heritage, Berlin offers actors a wealth of opportunities to grow, learn and shine. Add that to the city's affordability and accepting atmosphere, there's no better place than Berlin to take your first steps towards a successful and sustainable acting career.
---
If you also think that Berlin is the place to be to study acting, why not study it with us at BIMM Institute? Taught in English, our industry-led course BA (Hons) Acting for Stage, Screen and Digital Media gets you ready for the demands of the professional acting industry.