Connecting with others can get you places. Whether it's shaking the hand of your future colleague, meeting your industry icon or impressing someone at your dream organisation, it's key to keep connecting. 
One of the things we especially pride ourselves on is our connections. We have our expert lecturers (who have all had – and still have – successful careers in the music industry), our array of talented former alumni and our links with the biggest names in music. This means that we have many of music's most prolific figures on speed dial. So, we regularly get them to pop by and chat about their experiences in our exclusive Masterclasses to hopefully give you the knowledge you need to help you get to where you want to be.
A common theme is authenticity and how to become a bonafide industry professional while staying true to you, your values and your sound – it can be tricky, right? We've rounded up just a few of our favourite tips from artists who've visited us recently to give you the confidence to be authentically 'you'.
Mabel
"Ask yourself: what kind of an artist do I wanna be? What am I trying to say? What do I wanna make people feel? Don't let anybody else's opinion steer the ship."
When R&B star Mabel visited BIMM Birmingham to give a Masterclass, she gave great advice on creative identity and the importance of figuring out your likes and dislikes –which will ultimately shape your vision and what you're aiming for. By figuring this out, you can surround yourself with people who know – and get it – and you feel more confident in who you are as an artist. Thanks Mabel!
IDLES
"Write what you like, don't be sentimental about your mistakes, follow your infatuations – give yourself a brief and go for it"
Visiting BIMM Manchester, award-winning Bristolian punk rock quintet IDLES passed on their words of wisdom for starting out and developing your own style. They added that it's through 'trial and error' and experience that you learn, and that you need to keep on doing scary things – such as performing on stage –  to discover more about yourself to get better. Now, where's that mic?
Stormzy
"Make music your language, so when you press play, you have the confidence to say Stormz: I've got beats."
Belief in yourself and your musical ability was a key message that grime royalty Stormzy bestowed on students in a Masterclass held at BIMM London. The multi-BRIT Award winner advised students that by understanding the music they're putting out, it raises confidence to know that it IS good – and not just because your pals/mum say so.
Four Tet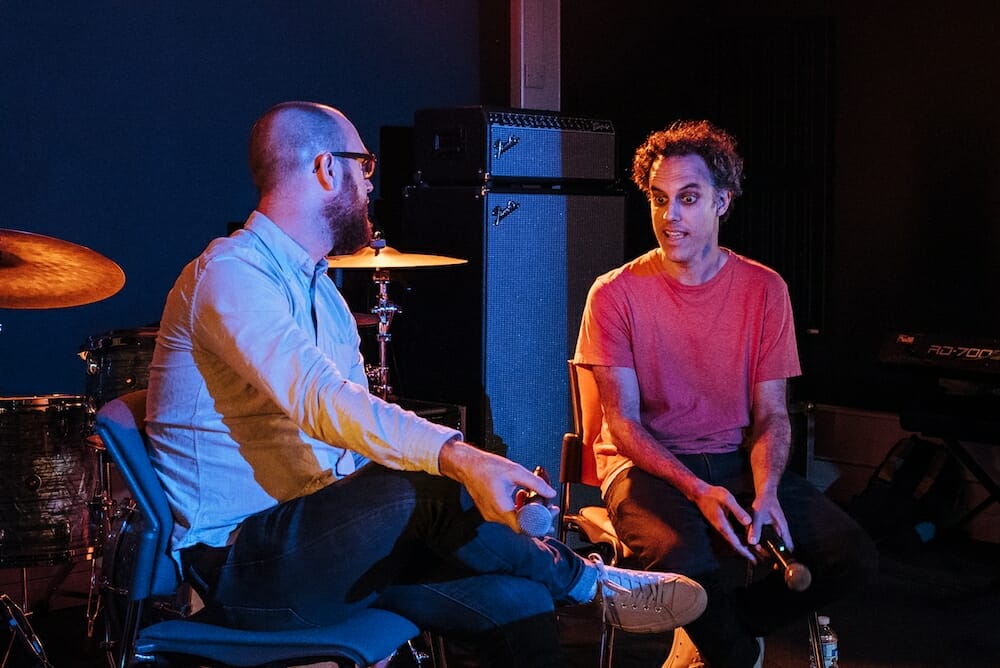 "People think nowadays that all they've gotta do is put out some killer tweets and things will start happening for them. But, you've got to establish something first. You've gotta make absolutely amazing music."
Knowing your style inside and out and nailing it was Four Tet's (aka Kieran Hebden's) advice for becoming an authentic and respected professional. After chatting about creatively focusing on making a different "gentle and spacious" sound to his previous "bangers" for "New Energy", the Grammy-nominated production guru and UK electronic artist shared that simply understanding your chosen music area and putting out music you're proud of is the best way of getting noticed.
Adam Neely
"By learning to say no, it was the turning point for when I started to feel comfortable in my own skin."
Perhaps one of the most valuable lessons to learn – in life as well as starting out as a musician – is to learn to say 'no' more. This was highlighted by musician, YouTuber and theorist, Adam Neely when he visited BIMM Brighton.
He said it was difficult, but it helped him to know himself better and choose opportunities that suit his talents, rather than saying yas to everything. By taking everything on, it can divert your attention away from what you really want to do. So, next time you're not feeling that gig or collab, remember that you can say no!
Mabel, IDLES, Stormzy, Four Tet and Adam Neely are just some of the speakers who've shared their stories and insider advice at a BIMM Masterclass. Masterclasses provide amazing opportunities to hear about how industry professionals – from vocalists, songwriters, producers, guitarists, and drummers to label bosses and event managers – have navigated the industry. They exclusively share their experiences and mistakes, passing on their insider knowledge to the next generation of music professionals. 
BIMM is the perfect place to keep connecting and creating – as well as keep collaborating, learning, innovating, achieving and exploring. Don't think you have to wait until Results Day to start your application process. Apply for Priority Clearing today and start your life in music.