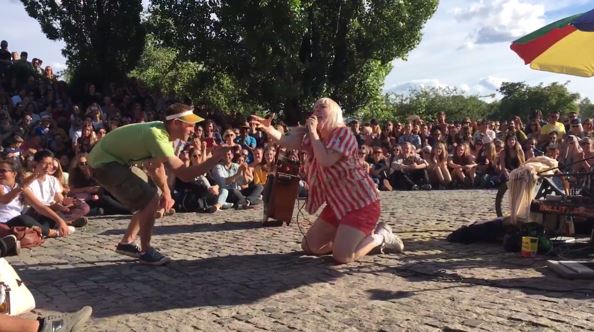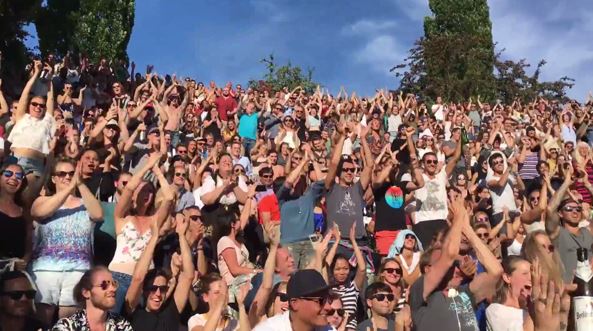 Every Sunday afternoon, Berliners and tourists alike gather in the historic Mauerpark amphitheatre to take part in the Berlin institution that is Bearpit Karaoke. Since its humble inception in 2009 this event – the brainchild of Joe Hatchiban – has snowballed from a congregation of a handful of music lovers and karaoke volunteers into an extravaganza luring hundreds of revellers every weekend.
While the word 'karaoke' tends to conjour up images of smudged make-up and drunken Whitney Houston ballads, Bearpit's productions are far more relaxed affairs. Nobody who takes to the stage in Mauerpark is claiming to be the next Mariah, but they are there to be part of a light-hearted staple of modern Berlin history. It's rare to find an audience as engaged with the singer as you'll discover here!
It's a great way to get performance experience – as can be seen in the example of BIMM Berlin Vocals student, Ásdís Viðarsdóttir, whose impassioned version of Miley Cyrus' 'Wrecking Ball' resulted in a standing ovation from adoring fans. She's by no means the only one – many of our students can often be seen here! If you tend to suffer from stage fright when performing, Bearpit is a wonderful way to shake those nerves in front of an always-supportive audience. It's a hugely international community of the unexpected – never judge a singer on first impressions, as you have no idea what noise is going to come out of that mouth.
Feel like taking to the stage at Mauerpark yourself? Take a look at the courses offered by BIMM Berlin to see if there's anything for you.