As part of our Music Made Us campaign, creatives, music professionals, experts and journalists reflect on how music has been there for us through good times and tumultuous periods that inspire change. Throughout generations, music has sparked, supported and commented on movements, memories and moments in time.
Our contributors look at these events' relationship with music – from the UK's 80s acid house and rave scene to the 1992 LA riots and Covid-19 potentially leading to the third summer of love. They also look at music's ability to heal our mental health and become a part of our personal stories. Here, Sami van Hasselt, a Songwriting student at BIMM Institute Berlin, tells his story of bringing a community together through music and his band Sector 5 during the first lockdown in Berlin. 
Most of you can probably relate to my current situation: locked in at home with not much else to do other than binge watch Netflix and drink way too much coffee. So, when my dad suggested I play a few songs from my balcony with my band Sector 5, I thought to myself: why not?
First of all, it gave us a challenge since we had never done anything like this previously, and secondly, music seemed like an excellent way to lift the spirits. Something I regularly do when I'm feeling down is to crank up the volume to my favourite songs until I feel better. So, I knew for a fact that my band and I could use a distraction and it did not seem far-fetched that our neighbours did too. This was during the first lockdown in Berlin and all the regulations were taking a noticeable toll on everybody because no one was used to staying at home like this for such an extended period.
The concept of the 'show' was simple. Our yard is shaped like a rectangle with balconies on every side facing toward each other; very much like a small arena in the heart of Berlin. So, one could watch the performance from any of the balconies while remaining a safe distance away.
Not expecting a whole lot of people to show up, since our promotion did not go beyond hanging up notes with the date and time, we were relatively self-conscious, telling ourselves we would be content if three people stayed for the duration of a few of the songs. But even as we were setting up our gear, the first neighbours started assembling on their balcony, waiting for us to perform.
"It made me feel something I hadn't felt before."
Typically, we're used to busking with a €200 three-in-one amp (on top of trying to compensate for the inability to perform with a drum kit). However, we were not used to that many people waiting for us to start the next song. It made me feel something I hadn't felt before.
We played went unexpectedly well. This, of course, set the motivational stone rolling to continue performing for our neighbours, which we did. We set a time (every Friday at 5 pm), which we communicated via our highly professional self-printed posters. And with each show we played, more and more neighbours would notice us, either by word of mouth or accidentally entering the yard while it was showtime.
"It was the one day during the lockdown where life seemed to be normal again."
In total, we ended up playing around 20 shows, although the most memorable one was toward the end of the summer. It was a sunny, cloudless day, and it seemed as if the neighbours had invited all their friends and the yard, as well as the balconies, were as packed as Covid allowed. Everyone was having a good time, drinking mixed beers and forgetting all about the pandemic – it was the one day during the lockdown where life seemed to be normal again.
During our balcony series, we covered around 30-40 songs we had never played before, regularly taking song requests. Due to its time-consuming effort, this kept us busy while at the same time expanding our fanbase and improving our skills – it was beneficial, allowing us to get more comfortable on stage and performing tighter with every show we played. From what I can tell, this experience helped us grow and mature as a band.
Forming Community through Music
In a city like Berlin, it is relatively uncommon to share a bond with your neighbours (or even know their names). However, proceeding the balcony concerts, a lot of the neighbours exchanged numbers, met up for a walk or a beer, and in time, formed a strong bond of friendship.
"It was even described as a 'weekly birthday party on repeat'".
I took it upon myself to investigate how we had affected our neighbours' lives in the pandemic, the main motivation for doing our performances in the first place. Their reactions were extremely positive – to the point where it got uncomfortable and simply weird to receive so many compliments and well-wishes. Many of the neighbours expressed their gratitude towards us for taking the time to prepare for their 'highlight of the week'. It was even described as a 'weekly birthday party on repeat'.
Some neighbours adjusted their work schedules to make it home in time every Friday – or simply left work early. One neighbour even described how they were all set to move out but eventually stayed because of the concerts and the community feeling that the performances had ignited.
"Titel Kulturmagazin […] labelled us 'Helden des Alltags' (2020), which translates to 'heroes of everyday life'".
All this commotion earned us an article in Titel Kulturmagazin, who labelled us 'Helden des Alltags' (2020), which translates to 'heroes of everyday life'. One of the neighbours even repeatedly reached out to the TV station RBB, getting a video of us performing on their homepage.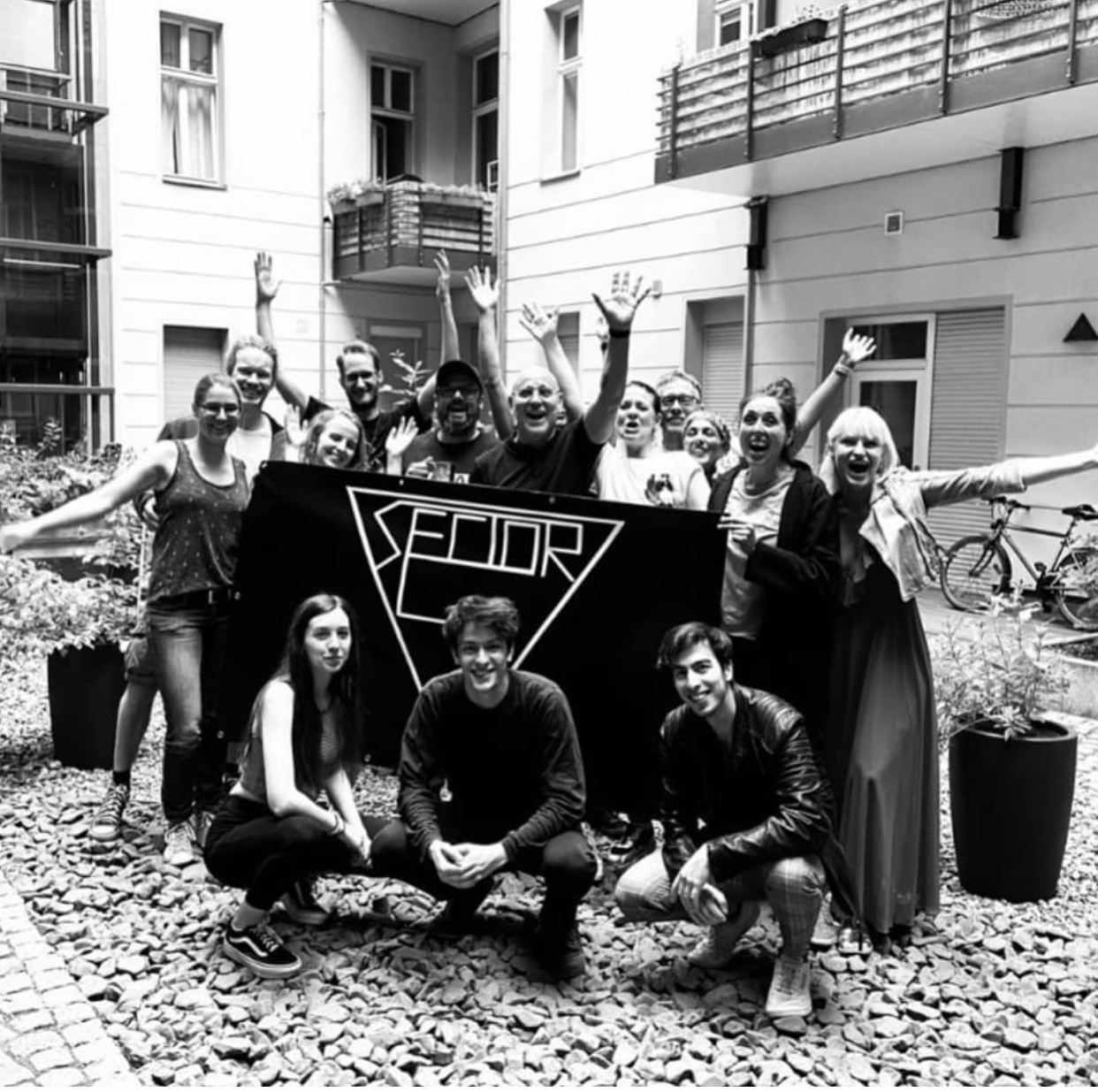 Looking back, I am extremely grateful for my dad storming into my room way too early in the morning and proposing what seemed like playing a simple one-time concert from our balcony (which FYI is way too small to fit a three-piece band with their gear in a comfortable way). For me, it feels like a cliché Hollywood movie in which all the characters are brought together by the power of music, serving as a spiritually guiding light through the pandemic. But in a way, I guess that is what happened.
Hegel once said: "Music is the language of the soul". But, for me, it is a lot more. Music helped me stay sane in the pandemic. It kept me busy and made me progress as a person. Most importantly though, it brought joy to our neighbourhood community, bringing everyone closer together. And, it has stayed that way ever since.
Our Music Made Us campaign is told through the students, graduates, journalists, experts and passionate people who have been shaped by this creative outlet. Discover their stories here.