For the past five years, BIMM Germany has played a huge part in Reeperbahn Festival.
Due to Coronavirus, this year's festival is mainly taking place online. However, as we say in show-business: the show must go on.
To mark our five year Reeperbahn anniversary, we decided to take a trip down memory lane and look back over some of our favourite BIMM Germany x Reeperbahn Festival moments.
Reeperbahn Festival 2019
It was a double celebration for BIMM at Hamburg's Reeperbahn Festival 2019. Not only did the weekend see four fantastic BIMM artists performing at our very own showcase event, but it also celebrated the official opening of our newest college within the city.
Musicians, fans and BIMM staff members were joined by a brand-new cohort of BIMM Hamburg students, who gathered at Spielbudenplatz in late September to enjoy the incredible musical talents of BIMM Berlin's EVVOL, Ed Prosek, MIN t and The Flavians – all of which include either our students, alumni or tutors.
In addition to the showcase stage, BIMM acts Ed Prosek and The Flavians also performed a number of intimate record-store gigs throughout the weekend, which were a huge hit.
On the final day of the festival, BIMM Berlin and BIMM Hamburg's esteemed faculty members hosted an industry panel discussing their extensive experience in artist branding and songwriting strategies.
Reeperbahn Festival 2018
We selected four incredible artists who represented BIMM Germany on our showcase stage in 2018. With a breathtaking voice and a whole lot of groove, Eveline mesmerised the audience and gave them a taste of their upcoming new EP. Berlin artist MIN t (Martyna Kubicz) grabs every moment as if it's her last and got the whole crowd dancing at Reeperbahn Festival 2018.
In addition to the showcase stage, we hosted a series of talks and panel discussions as part of Reeperbahn Festival's conference for members of the music and digital industries. These attracted some of Hamburg's most highly regarded international musicians (who also happen to be BIMM tutors) to speak at the event on Saturday 22nd September at the Festival Village's Spiegeltent.
First up in the afternoon was a panel discussion involving four legendary movers and shakers of the Hamburg music industry: musician Ilgen-Nur; frontman of The Jeremy Days, co-founder of Tapete Records and BIMM Songwriting Tutor, Dirk Darmstaedter; Rick McPhail – the American guitarist and keyboardist for German chart-toppers Tocotronic and BIMM Songwriting and Performance Tutor; and musician, author and BIMM Songwriting Tutor, Frank Spilker of Die Sterne.
Reeperbahn Festival 2017
In 2017, BIMM Berlin's Serge & The Blue Racoons, London-born rapper Lexodus, Brighton's Frankie Furlow and Berlin's electropop-duo Eveline – joined incredible names like Liam Gallagher, Beth Ditto, Newton Faulkner and Vance Joy at the festival. The BIMM acts performed at a special BIMM live music showcase at Hamburg music venue Spielbude, and the event was a roaring success.
Saturday saw the 'BIMM Berlin Training Day' – an event aimed at giving potential students a taste of what life at BIMM Berlin is like, with BIMM tutor Gordon Raphael at Angie's Nightclub discussing how he accidentally became the producer of the multi-million-selling albums of The Strokes. Vera Bohl was also at the Arcotel Onyx hotel giving tips and tricks on building your professional career in the music business.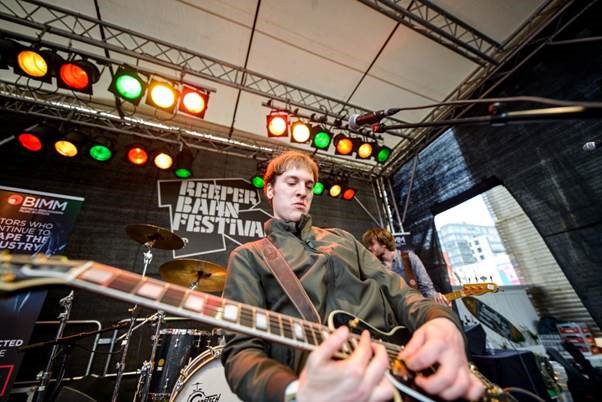 Reeperbahn Festival 2016
In 2016, BIMM Germany truly put the 'Bahn' in Reeperbahn, organising a one-of-a-kind train ride. Picture this: you're on a standard German train, the beautiful summer scenery whizzing by. But instead of staring out the window and listening to some music on your headphones, you're hanging out with colleagues, friends, and new acquaintances in a decked-out train carriage as the sun is setting, while being treated to a private concert by an up-and-coming singer-songwriter. Sounds unlikely, but this is exactly what the embassies did – rented out an entire carriage of a Deutsche Bahn train and had acts from both Canada and Britain performing on the journey.
BIMM student and Hamburg native Celine Love played an enchanting acoustic set. This year, BIMM Berlin had their own stage where graduates of their programmes performed, including Storme, Sea Bed, and BIMM Berlin's own Montag Mania and Min_t.
Reeperbahn Festival 2015
Our first-ever appearance at Reeperbahn Festival was in 2015. We hosted a showcase stage at Angie's Nightclub on Spielbudenplatz with four fantastic BIMM bands: Frankie Furlow, Bella Figura, Written in Waters and Fickle Friends.
We can't wait to enjoy the festival again and see our students wow the audience – as soon as the guidelines allow it. In the meantime, we'll be reminiscing over the great times we've had at Reeperbahn Festival. To find out what other similar opportunities we have available at BIMM Institue – and how you can kick-start your career in music – visit the website here.