Here, Berlin student Emilia Germer takes you on a tour of her musical city. Our colleges are located across Europe's most musically rich cities. As a BIMM student, you'll immerse yourself in the same city as musical legends and the industry's future game-changers. With inspiration all around, you'll work with like-minded people to create tomorrow's music industry. 
Berlin: the city where no one cares who or what you are or how you choose to live your life. Music, art, and creativity are the three defining forces driving the unique character of this city.
My name is Emilia and I am currently in the second year of my Music Business degree at BIMM Institute Berlin. Even though most of my time here was spent in lockdown, I feel like there still are enough things happening to justify coming here in rather uncertain times.
The following points are here to help you out when you arrive in Berlin. Hopefully, some of my (rather subjective) ideas of a great time can spark some interest. I will mainly focus most of it on the neighbourhoods of Friedrichshain, where BIMM and most BIMM students are located, and Neukölln, my personal home.
The first thing you'll recognise when you get here is that Berlin does not have a specific city centre. Each neighbourhood is a city in itself and it will feel like travelling to a whole different world when visiting friends or places outside your normal areas.
Best things to see in Berlin
When coming to Berlin, you might think to start with all the sights and touristy stuff. But, as you are now one of the locals, I want to give you some recommendations that are a little less common.
To start off, we have all the amazing green areas and parks you will find around the city. Personally, I love Volkspark Friedrichshain or Körnerpark Neukölln for their romantic vibes but also Mauerpark in the north of the city. Mauerpark hosts one of the biggest flea markets on Sundays and a great open-air karaoke place for anyone that wants to tackle their stage fright.
Also, do not miss out on Tempelhofer Feld. It is an abandoned airport landing field right in the middle of the city. And, if you've ever wondered how many ways someone can roll around in asphalt; this place will show you five more.
This field is great if you ever feel like the city is getting too full and narrow. Stepping onto it always feels like a breath of fresh air as your eyes gaze over this vast building. This free space is the perfect spot for cycling, running, cruising on a skateboard or dancing on roller skates. But even if you don't feel like working out, simply grabbing a beer and some snacks while enjoying the sometimes incredibly beautiful sunsets is one of the best things to do after a long day.
Seeing the skyline of Berlin is something that can really change your perspective, and if you don't live in a house that allows you to sit on the roof (even better with some pizza and wine), it can be quite tricky to find a good spot in this flat city. My top three recommendations for this are:
Klunkerkranich – a rooftop bar in Neukölln
The monument at Viktoriapark
Or, if you want a little more nature, Drachenberg in the West of Berlin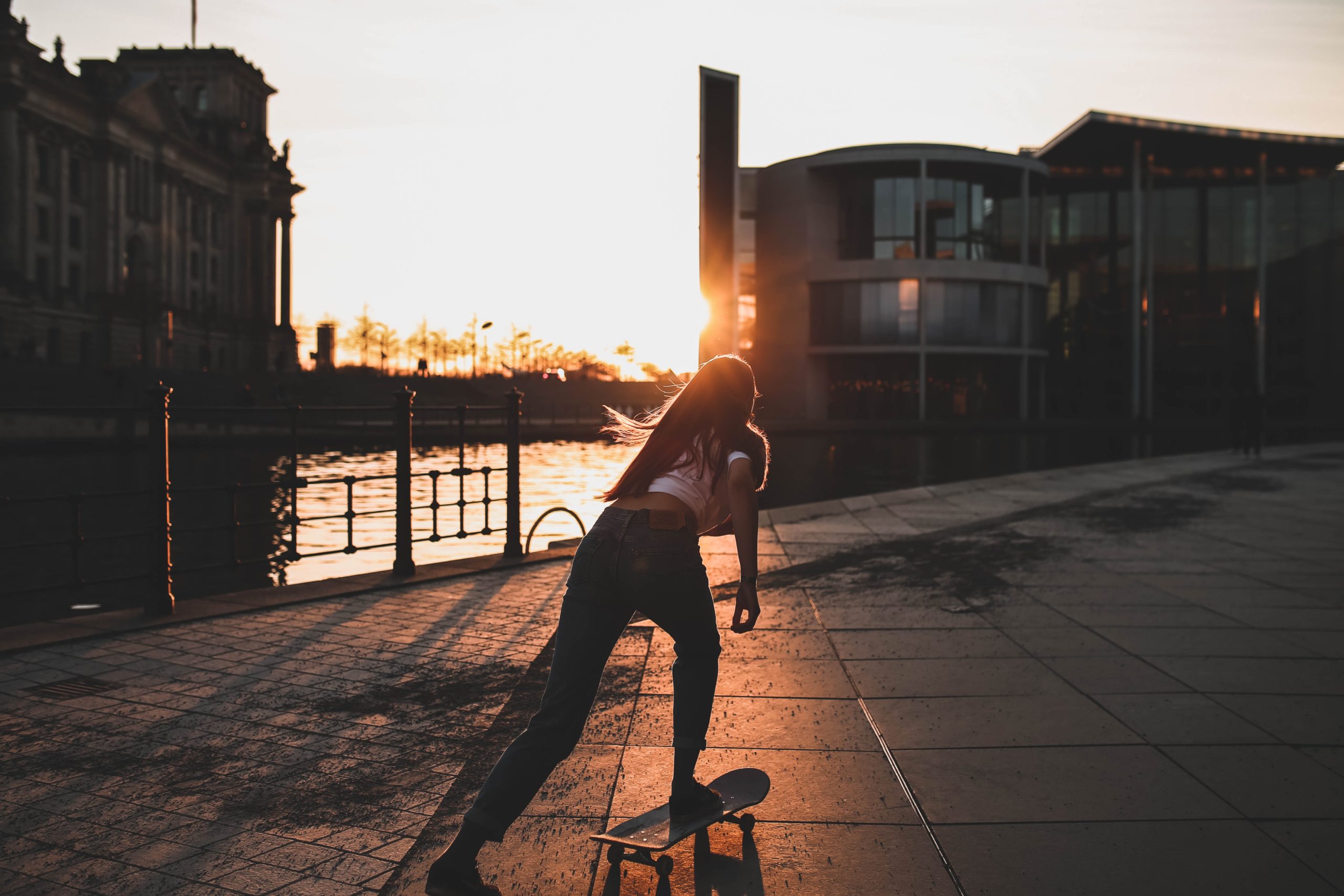 Where to eat
Ok, so this is the part that should get you excited. A great thing about this city is that you don't have to splurge to get tasty food. It is super easy to find cheap vegetarian, vegan, gluten-free, dairy-free food. The districts have amazing places in each corner, and the following are just a small selection of my favourites.
Breakfast:

La Maison (French)
Melt Café Creperie (French)

Lunch / Dinner

Korean Food Stories
Umami (Asian Fusion)
Vegan Living 1990 (vegan Vietnamese)
Gazzo Pizza
Malafemmena Pizza

Extra / Café

Brammibals (best vegan donuts)
Leuchtstoff Café Bar
Stilbruch Kaffee
Books & Bagels
Zeit für Brot (people wait in line for their famous cinnamon buns)

Döner/Kebap
Döner is Berlin, and Berlin is Döner. You will find them everywhere; they are cheap and the best food for the ride home after a night out. The following three are my favourite meat-less options:
NUR Gemüse Kebap S-Bahn Hermannstraße
Mustafas Gemüse Döner
Vegan Döner at Vöner
Where to shop
Berliners live for their love of vintage and second-hand fashion. Not because it can make your whole appearance unique, but mostly because it is the best way to tackle fast-fashion chains and to try living a more sustainable life. One of the most common second-hand chains in the city is HUMANA, with its biggest store close to the BIMM campus at Frankfurter Tor in Friedrichshain: four floors full of amazing finds and even an entire department dedicated to vintage fashion. You will also find smaller vintage stores almost just as frequently as somewhere that sells Döner.
Sundays are also a great day to enhance your shopping experience in one of the many flea markets around the city. Next to the one at Mauerpark, the flea market at Boxhagener Platz in Friedrichshain offers fashion, antiques and anything else you might need to make your space feel a bit more personal. Another great spot is the nowkoelln flowmarkt, bringing you clothes, art, music or small handmade stuff. For book lovers, the Antique and Book market at Bodemuseum not only has a great selection of second-hand books but is also between some of the prettiest building in the middle of the city.
But if you are feeling a bit fancy, Bikini Berlin Mall is the place to go. It's a concept department store next to the zoo in West Berlin. Home to many pop-up shops and permanent stores, it houses both well-known designer brands and young, up-and-coming designers who are often showcasing their creations for the first time.
Now go ahead and grab yourself a beer from the späti and enjoy your time in this wonderfully unique city. It won't take you long to feel at home here, I'm sure!
Find out more about BIMM Institute Berlin here. You can also learn more about life in this incredible city here. Excited to join us? Apply now. We can't wait to meet you.