As Europe's most connected music college, we help our students to start gaining momentum in the music industry. Each BIMM location employs experts tutors who know exactly what it takes to make a name for yourself in their particular city, so today we thought we'd share some tips about how to get noticed in our newest BIMM college city: Hamburg!
Visit jam sessions and make friends
The big advantage of Hamburg's music scene is that most popular clubs are in the centre of the city, so it's very easy to hop from one club to the next, visiting performing friends and even having a drink afterwards. If you're new to Hamburg and don't know many musicians yet, go to some jam sessions and connect with like-minded people. One of the most popular jams is Session One, with a focus on urban music and groove, and if you're interested in jazz, visit the Birdland Vocal Session. Knust Acoustics is famous for its small summer concerts too, where you'll always find plenty of musicians in the crowd.
Be on social media

 
If you want to establish yourself as a musician in a new city, it's crucial that you can be found on Facebook and Instagram. Connect with people virtually and then meet them in real life. Find groups for musicians in Hamburg and feed your social media profiles with musical content to show exactly what you have to offer.
Play street gigs

 
When you begin making music in a new city, it's likely you'll have to start from scratch without a fanbase. And the best way to grow your fanbase is by playing street gigs – Schulterblatt in Schanzenviertel is an excellent start. This place is also called 'piazza' because people love to sit outside and drink beer and galãos there in summer, so it's the perfect way to promote your music to a new audience.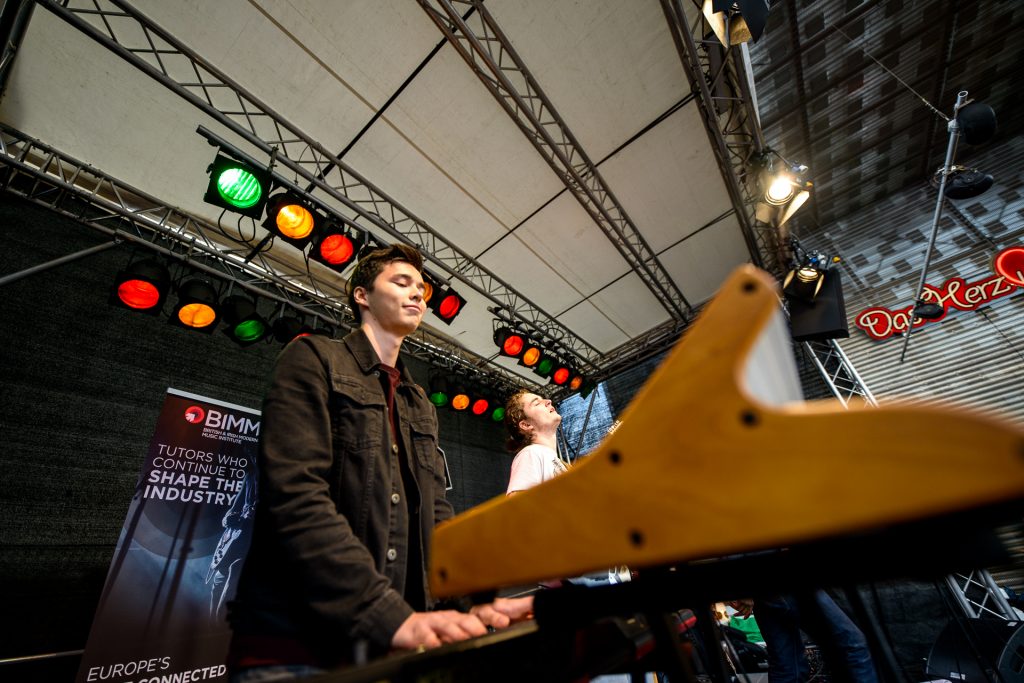 Find venues to play at and bands to collaborate with

 
Hamburg is a very musician-friendly city. If you're just about to start your music career, there are so many great venues to play your first concerts at, such as Freundlich & Kompetent who have a reputation for hosting great gigs with new up-and-coming bands. To increase your chances, collaborate with bands who are a step ahead of you in terms of their public profile, and ask if you can open their show for them – this will hopefully lead to you making a ton of new fans.
Reeperbahn Festival

 
To find out what's hot in the music business and meet some key industry folk, such as label managers and bookers, get yourself to Reeperbahn Festival. It takes place in September each year, and besides great concerts, you can attend keynote sessions and industry discussions too. Just make sure you have enough business cards to hand out to all the music business contacts you're likely to meet
For more information about studying at BIMM Hamburg, sign up for an open day or contact our Admissions Team by email on [email protected]