At BIMM Berlin, we have students from 27 countries around the world studying with us. And each one of them loves Berlin for a different reason. This week we interviewed original West Berliner and second year BIMM Berlin Music Business student, Joel Shani, to find out his hidden gems and must-see places of the West. Now excuse us while we go and explore each and every one of his suggestions, as they all sound so interesting and unusual…
Tell me about a hidden gem in West Berlin and why you love it so much.
The old spy station – you can sneak into it. It's a thing that every West Berliner does in their teenage life. It's exciting to think of the history.
If your friends were visiting West Berlin for one weekend only, where would you tell them to go?
I would definitely recommend that they go to Schwarzes Café – it's a really old café that my mum used to go to when she was a teenager. There are some interesting rumours about that place – I won't mention them here – but if you're a BIMM Berlin student, come and ask me and I'll tell you more.
I'd also tell them to go to Wuppke. It's a really old German pub – you can smoke in there, watch soccer and get a beer. It's such a strange place – you have hippies working behind the bar serving a mixture of older West Berliners and young hipsters too… it's surreal.
You should also go to Grunewald, and just take a walk on a Sunday around the lake. Plus you get to see a bunch of dogs and play with them if their owners let you. You can also get a good old German Bratwurst once you've finished the walk. The Sunday market at Schoeneberg, Winterfeldtplatz is really nice too.
What's your favourite place to eat in West Berlin and why?
L'Osteria – go there and get the biggest pizza on the menu. They are the best sober pizzas in Berlin. Also try Neni Berlin – it's right next to the pizza place I just mentioned, and is high up on the top floor, with great views over the whole of Berlin. You need to reserve though, because it's always full. Get the 'Jerusalem Plate' – it's a huge mess of delicious stuff, and be sure to order some colourful hummus. For breakfast you should go to A Never Ever Ending Love Story near Savignyplatz and get blueberry pancakes. It's a really cute small place. There are no reservations, but if you can get a table, it's really nice.
What's your favourite place to listen to music/drink in West Berlin and why?
The Hat. A new smoky jazz bar located under the S-bahn bridges. It's very Chicago-esque – they have pure jam sessions and the music is new every night. They have a counter above the bar that logs every jam session they host – it's on around 7,000 now, which is really cool. The band plays louder when the S-bahn comes because you can hear the rumbling of the train coming. Bands play at 10pm every night, no matter what night of the week. If you don't know what to drink, tell the waiter how you feel and they'll mix something up just for you.
It doesn't really have a general age of customers; it's a nice mix. It's a good date place.
What makes West Berlin so different?
It's the original Berlin. All of the people who come from Berlin, live in West Berlin. It's a fact. The furthest they would go is Kreuzberg. When you grow up with Berliner parents and are born into the culture and community, you get to know everyone. There's a strange mix of old and new, super rich and cool, then clichés and creatives too. I think I'll live there forever. West Berlin has a snobby cool, rather than a rough Berlin, like the East.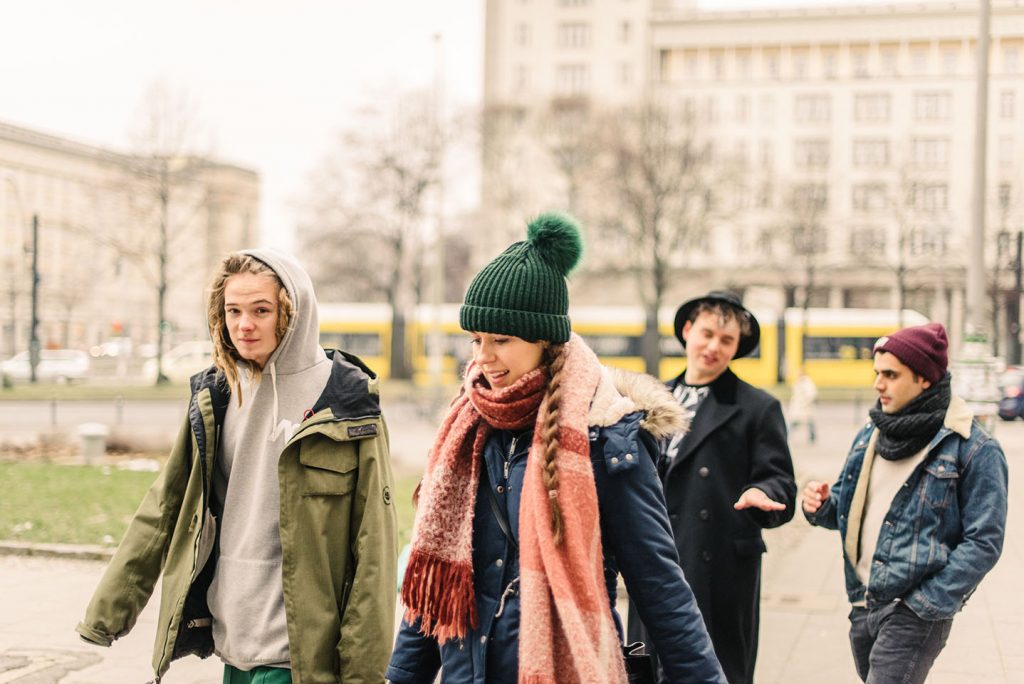 Image Credit: André B.